The Nevis Range Mountain Experience, Fort William, has today (04-06-18) announced a groundbreaking partnership with Trek. As part of this partnership Nevis Range and Trek will work together, unveiling a number of initiatives over the next year, designed to encourage and develop Mountain Biking at all levels at Nevis Range, whilst transforming the reach of the home of the Fort William Mountain Bike World Cup into a globally recognised Trek mountain bike destination.
As a first step Trek has invested in both equipment and content creation at Nevis Range enabling both track development and promotional activity aimed at truly international audience.
Nevis Range's Commercial Manager, Chris O'Brien, commented: "Our partnership with Trek is a first for Nevis Range. With the introduction of the world's leading bike brand into our family, we hope to take Nevis Range to a far wider audience and generate real excitement about Trek led experiences at Nevis Range!"
"This is an incredibly exciting prospect and the possibilities of what we can achieve are endless! Nevis Range wants to bring more world class sporting events to Fort William and this partnership significantly enhances our ability to achieve our goals!"
A promotional film specifically for the China Market is being produced to further encourage the rapidly expanding China Mountain Biking tourism market.
Trek will also be helping Nevis Range support a number of talented young local riders in their quest to become pro downhill racers.
The investment from Trek will also be used in the design and development of new exciting downhill features and future trail design.
Trek Bicycle, a global leader in the design and manufacture of bicycles and related products, began in 1976 with a mission to build the best bikes in the world. Over 40 years later, the brand's commitment to relentless innovation while honouring this founding principle means that every Trek bike is built to enhance the quality of the ride, and is backed by a history of performance, durability, innovation and precision engineering.
Helen Guesford, Marketing Manager UK, Ireland, Poland for Trek, commented: "We are very excited to be able to partner with Nevis Range. Their expertise and passion for mountain biking makes this an ideal partnership for us; the area is steeped in mountain bike history, and we are collectively aligned in our commitment to the sport's continued growth in Fort William. We can't wait to work together with Nevis Range and Nevis Cycles to showcase the world-class riding locales – and talent – we have right here in the UK."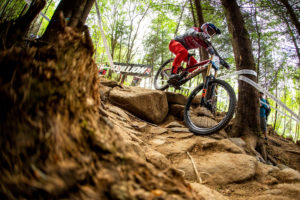 Kate Forbes, MSP for Skye, Lochaber and Badenoch, said: "This is great news for Lochaber and in fact for the Highlands as a whole. Fort William is known as the outdoor capital of the UK and this adds another string to the bow.
"This will promote Nevis Range worldwide and will hopefully increase revenue to local hotels, restaurants and shops.
"I wish Nevis Range well with this new partnership and hope Lochaber continues to build international renown for outdoor activities."
The Nevis Range team caught up with a few members of the Trek mountain bike racing team ahead of the Fort William Mountain Bike World Cup 2018:
Jez, Trek UK Media Specialist, said: "It's such an iconic venue. Having this new association between Trek and Nevis Range is absolutely amazing!"
Jill, Trek Factory Communication Manager, said: "Nevis Range is the highlight of the season, it's the home World Cup for us and the crowd is always amazing. As a team we've had some really amazing times here!  Riders are feeling good ahead of the World Cup and conditions are great for this weekend."
Millie Johnset, Atherton Trek Academy Rider, said: "This is one of my favourite tracks. It is fast and really suits me! I am really excited to race my first World Cup here. The Trek Session feels really good and amazing on track feel amazing."
Lucas Cruz, Trek BC Development Team, said: "It's amazing to be at Nevis Range. It is a legendary track! I've always wanted to come here, I've heard that it's always fun. The Motorway is my favourite part of the track, with similarities to my home track of A-Line in Whistler."
Ends
Media Contacts:
For further information on Nevis Range and the partnership with Trek please contact"
Chris O'Brien, Commercial Manager at Nevis Range Mountain Experience – E: [email protected] | T: 01397 705825; or
Nikki Stafford, Marketing Manager at Nevis Range Mountain Experience – E: [email protected] | T: 01397 705825
Notes to Editors:
Nevis Range Website – http://www.nevisrange.co.uk/
Nevis Range on Twitter – https://twitter.com/TheNevisRange #JuraPatrol #10puppies
Nevis Range on Instagram – https://www.instagram.com/nevisrange/
Nevis Range on Facebook – https://www.facebook.com/NevisRange/
Nevis Range is a visitor attraction located north of Fort William and south of Spean Bridge. The Mountain Gondolas transport visitors, Skiers & Snowboarders and Mountain Bikers to 650m on the slopes of Aonach Mor. There are 74 Gondolas in total and each one takes up to 6 adults. http://www.nevisrange.co.uk/
Nevis Range Mountain Experience is a year round mountain resort comprising …
All year round mountain gondola visitor attraction
Winter snowsports area with equipment hire and Snowsports School.
All year round mountain biking with 48km of cross country mountain biking, as well as a cross country and downhill mountain bike trails with gondola access.  Home to a round of the Mountain Bike World Cup
High Wire Adventure high ropes courses
Self service Snowgoose restaurant & bar (gondola top station) and Pinemarten café bar (gondola base station) serving locally served produce prepared on site.
Mountain walks to scenic view points
Forest walks
Gift shop