Nevis Range Mountain Experience, Fort William, has, today (16-09-18), announced some exciting changes to the senior leadership team designed to propel the business forward and continue their trend of success dating back to 1989.
Chris O'Brien has been appointed CEO. Chris Joined Nevis Range in 2017 from his role as Destination Manager for the Outdoor Capital of the UK (Fort William and Lochaber). A well-known figure in Scottish Tourism, Chris brings years of experience across the sports, leisure and entertainment industries and a proven track record in digital transformation and international sales development.
Chris O'Brien, said: "Together we are going to make Nevis Range the number one outdoor experience in the UK! Many companies aspire to change an industry yet very few have all the elements required – talent, resources and perseverance. Nevis Range has proven that it has all three in abundance."
Nevis Range Mountain Experience in Fort William, home to the UK's only Mountain Gondola; is the mountain experience for all seasons. Activities such as winter Snowsports, Climbing, Mountain Biking, High Ropes with Tree Adventure, and Zoomtrax tubing slide.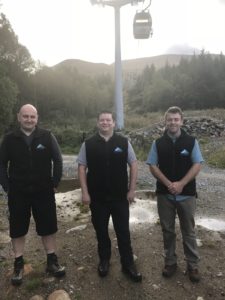 The new senior leadership team at Nevis Range also features: Chris MacPherson as Engineering Director, John Sutherland as Activities Director and Grant Huggan as Operations and Facilities Manager:
Chris MacPherson – Engineering Director
Chris MacPherson left school at 16 to work, on a self-employed basis, with a timber extraction team specialising in whole tree extraction and processing from the very steep terrain. During this time, he was introduced to various engineering practices, ropeway systems, heavy plant maintenance, planned and unplanned maintenance.
In May 1995, he applied for a position at Nevis Range as a general mountain assistant, working his way up to Assistant Engineering Manager in 2000 and Engineering Manager in 2005. Through various further training programmes his skills progressed with more advanced knowledge of cableway systems, plant maintenance, complete mountain resort management, project management, man management and leadership skills. Chris joined the Nevis Range board in 2008 and since then he has played a part in the further development of Nevis Range.
Chris MacPherson said: "After more than two decades of service at Nevis Range I can honestly say I am very excited about the future. With the strength of the management team there is no limits to what we can achieve as an organisation."
John Sutherland – Activities Director
John Sutherland studied at Duncan of Jordanstone College of Art and Design graduating with an Honours degree in design. John has worked with art departments on several major films and adverts, and latterly on location as a mountain safety specialist.
John has operated a number of businesses, producing innovative and successful marketing campaigns for the private and public sectors.  With a passion for adventure sport, he has found that his extensive experience in skiing, mountain biking and mountaineering has led to his success in capturing the beauty and excitement of the outdoor landscape and mountain lifestyle in his work.
John has been involved with developments of Nevis Range from an early age and has worked on the mountain as a ski instructor, leading to an in-depth knowledge of the business and a desire to see the continued success of the company as an all year-round visitor destination.
John Sutherland said: "I am very excited to have the opportunity to work closely with the other managers of Nevis Range and their teams about how we can better develop the range of activities on offer here. I also look forward to working on some exciting new projects for the future!"
Grant Huggan – Operations and Facilities Manager
Grant Huggan came to Nevis Range in 2008 to work the winter as a ski technician. He never planned to stick around but the staff and the ever-changing business made him curious enough to stay. Two years later Grant was given the opportunity to become the manager of the Nevis Range Ski Hire department, a position he embraced and has since grown the department hugely.
Grant Huggan said: "Ten years on from beginning my career at Nevis Range, I look forward to a new challenge as Operations and Facilities Manager, working with staff old and new to create the best possible experience for our customers."
There are many exciting developments happening at Nevis Range so look out for more announcements over the coming weeks and months you can expect to hear about a number of new and exciting developments from Nevis Range.
Ends
Media contact:
Paddy Cuthbert | Littlehouse Media | E: [email protected]| M: 07913 951717; or
Nikki Stafford, Marketing Manager at Nevis Range Mountain Experience
E: [email protected] | T: 01397 705825 | M: 07477167784
Free use Images attached:
Chris O'Brien, CEO of Nevis Range Mountain Experience
From left to right – Chris MacPherson, Engineering Director; Chris O'Brien, CEO; John Sutherland, Activities Director – Nevis Range Mountain Experience
Notes to Editors:
Nevis Range Website – http://www.nevisrange.co.uk/
Nevis Range on Twitter – https://twitter.com/TheNevisRange
Nevis Range on Instagram – https://www.instagram.com/nevisrange/
Nevis Range on Facebook – https://www.facebook.com/NevisRange/
Nevis Range is a visitor attraction located north of Fort William and south of Spean Bridge. The Mountain Gondolas transport visitors, Skiers & Snowboarders and Mountain Bikers to 650m on the slopes of Aonach Mor. There are 74 Gondolas in total and each one takes up to 6 adults. http://www.nevisrange.co.uk/
Nevis Range Mountain Experience is a year-round mountain resort comprising …
All year round mountain gondola visitor attraction
Winter snowsports area with equipment hire and Snowsports School.
All year round mountain biking with 48km of cross country mountain biking, as well as a cross country and downhill mountain bike trails with gondola access.  Home to a round of the Mountain Bike World Cup
High Wire Adventure high ropes courses
Self-service Snowgoose restaurant & bar (gondola top station) and Pinemarten café bar (gondola base station) serving locally served produce prepared on site.
Mountain walks to scenic viewpoints
Forest walks
Gift shop