SYHA Hostelling Scotland (SYHA) is pleased to announce a major redevelopment project at Glen Nevis Youth Hostel.
The project is a key part of SYHA's long-term strategic plan, which includes a continual programme of modernisation across the network to improve the overall hostelling experience in Scotland. The redevelopment of Glen Nevis Youth Hostel builds on the organisation's commitment to provide great quality accommodation in the finest locations Scotland has to offer.
A popular destination with travellers, the project will transform the current hostel into a contemporary environment, offering terrific value for money, flexible accommodation with a mix of private en-suite rooms and shared accommodation. Guests will also benefit from a modern, well-appointed self-catering kitchen and welcoming open plan living spaces with panoramic views over the spectacular Nevis mountain range.
The youth hostel will close from Sunday 22 October 2017, re-opening in time for peak season 2018.
SYHA's Chief Executive Margo Paterson said: "I'm delighted that the project is now underway and we're looking forward to see the new youth hostel take shape over the coming months.

"We're proud to be leaders in hostelling and this project truly reflects our mission, to make Scotland accessible to more people than anyone else, providing affordable, welcoming accommodation in the best locations across Scotland.
"This development comes quickly on the back of extensive improvements and upgrades to Aberdeen Youth Hostel and reflects our commitment to the modernisation of our network. We pride ourselves in excellent customer service, listening to our members and guests, understanding their needs and developing our network to offer them the best possible hostelling experience.

"We want them to discover the real Scotland with us."
SYHA Hostelling Scotland is a self-funding charitable organisation with 34 hostels located throughout Scotland, accommodating 400,000 guests every year, with a turnover of £8m and an estimated contribution to the Scottish visitor economy of £25m.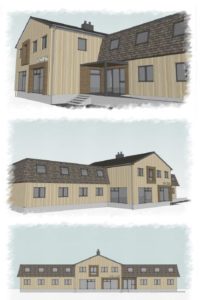 Ends
Media contact:
Paddy Cuthbert | Littlehouse Media | E: [email protected] | M: 07913 951717 | 0131 526 3980
Useful links:
SYHA Hostelling Scotland – https://www.syha.org.uk
SYHA on Twitter – https://twitter.com/syhahostelling #syhadventure
SYHA on Facebook – https://www.facebook.com/syhahostellingscotland
Notes to editors:
SYHA Hostelling Scotland is a self-funding charity operating a network of nearly 60 exceptional youth and affiliate hostels for the benefit of all those wishing to learn and experience what Scotland has to offer. Our unique sites provide affordable, comfortable, safe and quality-assured accommodation with a warm friendly welcome, local knowledge, activities and services for guests travelling around Scotland.
Members enjoy a range of exclusive benefits including dual membership of Hostelling International, providing access to more than 4,000 youth hostels in over 90 countries worldwide. Membership and guest overnight income supports our charitable youth programmes and the maintenance of the hostelling network, particularly in rural Scotland