The Nevis Range Mountain Experience, Fort William, host venue for the UK round of The UCI Mountain Bike World Cup, has launched a new mountain bike school, the first owner-operated trail centre bike school in Scotland.
Running annually from 01 May to 30 September, The Nevis Range Bike School will offer fun-filled skills coaching and guided rides to kids, families, individuals and groups of all ages and abilities.  The two-hour sessions will fully utilise the 60km of mixed graded cross-country trails of the Leanachan Forest and the world-renowned orange graded downhill track and the black graded Top Chief track, both accessed using the UK's only mountain gondola.  The Nevis Range Bike School will also offer a mountain bike hire service in association with Trek Bikes as part of the coaching and guiding service.
Dave Parfitt, the Nevis Range Ski School Manager and a Fort William local with over 20 years of service with the organisation, is heading up the Nevis Range Bike School.
Dave Parfitt said: "We are really excited to be adding mountain bike coaching and guiding to our summer operation here at Nevis Range.  We have such a huge variety of top-quality waymarked trails for all skill levels coupled with the most amazing views.  We want our mountain bike visitors of all abilities to fully immerse themselves in some of the best riding in the UK, whilst having the best possible day out on a bike.
"Our qualified and experienced guides know the trails inside out.  For each session they will tailor the routes to the technical abilities of the individual or group, whilst helping to rectify bad habits, improve technique and build riding confidence in a friendly, fun and relaxed environment.

"Our coaching and guiding sessions will be a great introduction to the trails and tracks of Nevis Range, an internationally recognised bike destination, guaranteed to be of benefit to any rider at any level."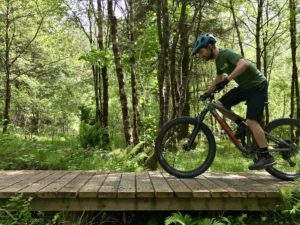 The team of four locally based mountain bike guides, all level two and three British Mountain Bike Leadership Award qualified coaches, will offer guiding and coaching options to suit all abilities from beginner to expert.  They will operate in a guide to client ratio of one to eight, enabling them to cater effectively to the specific requirements of every rider.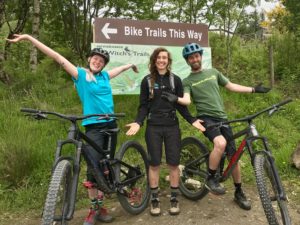 The Nevis Range Bike School will offer six different mountain bike guiding and coaching options to suit all skill levels; from the entry level cross country course, an introduction to cross country mountain biking on the more gentle trails within the Leanachan Forest, to Downhill 101 where the highest level riders can experience the technical demands of the multi-award winning and internationally renowned World Cup downhill track under expert supervision.
Over the last 12 months, Nevis Range has formed integral partnerships with Trek, one of the world's leading bike brand, and Endura, a global market leader in cycle apparel, both of whom are passionate about the development of mountain biking at all levels at the venue.  They are keen to encourage more people to get involved with the sport regardless of ability or age, whilst further cementing the venue's reputation as a world-leading mountain bike downhill and cross-country trail centre and international event hub.  Both brands are fully behind the new bike school, providing Trek bikes and Endura clothing and protective gear to the guiding team, whilst also investing in the design and development of new exciting track and trail features, trail signage and advertising at the venue.
Nikki Stafford, Commercial Manager of Nevis Range Mountain Experience, said: "We are incredibly excited about the opening of our bike school this Summer! It is vital to us to bring on the next generation of world class mountain bikers and the introduction of our own bike school will allow us to do this! We have a strong MTB community in Fort William and this will allow it to grow further."
For further information on the Nevis Range Bike School go to – https://www.nevisrange.co.uk/activities/bike/nevis-range-bike-school/
Ends
Media contact:
Paddy Cuthbert | Littlehouse Media | E: [email protected] | M: +44 (0)7913 951717
If you are interested in a press trip to experience the mountain bike guiding and coaching at Nevis Range with the Nevis Range Bike School, please contact Paddy Cuthbert.
Images can be downloaded by going to https://www.dropbox.com/sh/rkyk5rche2jmnpz/AAB09IzEDx7oPNoONOl67eera?dl=0
Notes to Editors:
Nevis Range Bike School
Pricing for the Nevis Range Bike School two-hour coaching and guiding sessions will vary from complete beginner on the introduction to trails course at £45pp to advanced downhill guiding at £75pp, which includes a mountain bike uplift ticket for the day on the gondola.
Cross country and downhill mountain bike hire prices start from £30 per day.
Nevis Range Mountain Bike Trails – Overview
There are over 60km of mountain bike trails to choose from at the Nevis Range Mountain Experience, with a variety of different track and trail gradings including Orange, Black, Red and Blue.  The lower forest trails of the Leanachan Forest are referred to as the Witch's Trails.  They include the new Voodoo (moderate) and Blue Adder (moderate) trails, two of the best singletrack descents for those new to mountain biking. Both are accessed via a blue-graded climb.  There's also the fantastic 4.5 mile (7 km) Broomstick Blue route.
Gondola Accessed tracks are the Fort William World Cup Downhill Track (Orange Graded Track) and Top Chief (Black Graded Track)
Fort William World Cup Downhill
It's steep, very fast, full of rock gardens, tight steep corners, big jumps, drops, shore, exposed sections and woodland sections. It ends in the Nevis Range car park.
Top Chief
The only black cross country trail with gondola access, remote with exposed open hill sections and stunning mountain views. Built in 2009 with new sections added in 2010 this trail has got some decent buzz around it. It is graded a Black Enduro Trail. It's about 5.5.km with a vertical drop of 543 metres and it ends in the Nevis Range car park. The terrain is also steep, technically tough with wide singletrack, some shore, rock steps, rock gardens, gap jumps and drops.
Witch's XC Trails: World Champs route (Red)
This trail was built for the World Champs and World Cup circuit (built in 2007) is graded red and is 8.5 km long running through the Leanachan forest. It has many technical sections and given the terrain has tough ups and fast descents.
Witch's XC Trails: 10 Under the Ben Loop (Red)
This trail is also graded red and is 10 miles (16km) long with fast flowing singletrack mixed up with fire road. and a famous fast descent is known as Nessie. It is the home of No FussEvents who started off with their first race event there (and still run) the annual 10 under the Ben endurance race.
Nevis Range Mountain Experience
Nevis Range Website – http://www.nevisrange.co.uk/
Nevis Range on Twitter – https://twitter.com/TheNevisRange
Nevis Range on Instagram – https://www.instagram.com/nevisrange/
Nevis Range on Facebook –  https://www.facebook.com/NevisRange/
Nevis Range is a visitor attraction located north of Fort William and south of Spean Bridge.  The Mountain Gondolas transport visitors, Skiers & Snowboarders and Mountain Bikers to 650m on the slopes of Aonach Mor.  There are 74 Gondolas in total and each one takes up to 6 adults. http://www.nevisrange.co.uk/
Nevis Range Mountain Experience is a year round mountain resort comprising …
All year round mountain gondola visitor attraction
Winter snowsports area with equipment hire and Snowsports School.
All year-round mountain biking with 48km of cross country mountain biking, as well as a cross country and downhill mountain bike trails with gondola access.  Home to a round of the Mountain Bike World Cup
High Wire Adventure high ropes courses
Self-service Snowgoose restaurant & bar (gondola top station) and Pinemarten café bar (gondola base station) serving locally served produce prepared on site.
Mountain walks to scenic view points
Forest walks
Gift shop