Leading Scottish social enterprise, Scran Academy, has embarked on The Big Scran Care Tour, a six-month tour of more than 100 social care sites across Edinburgh to deliver a token of 'foodwill' to as many as 4500 health and social care workers across the city, in celebration of their hard work throughout the Covid-19 pandemic.
The youth charity based in North Edinburgh is delighted to be teaming up with Edinburgh Health and Social Care Partnership and Edinburgh City Council's Thrive Edinburgh for The Big Scran Care Tour.  The essential funding has enabled Scran's young people and staff to prepare and deliver either Scran Munchy Boxes, a Scran Lunch Table, or hot meals from the Scran Van to workers at 73 GP surgeries and 30 social care sites across the city, with more sites being scheduled.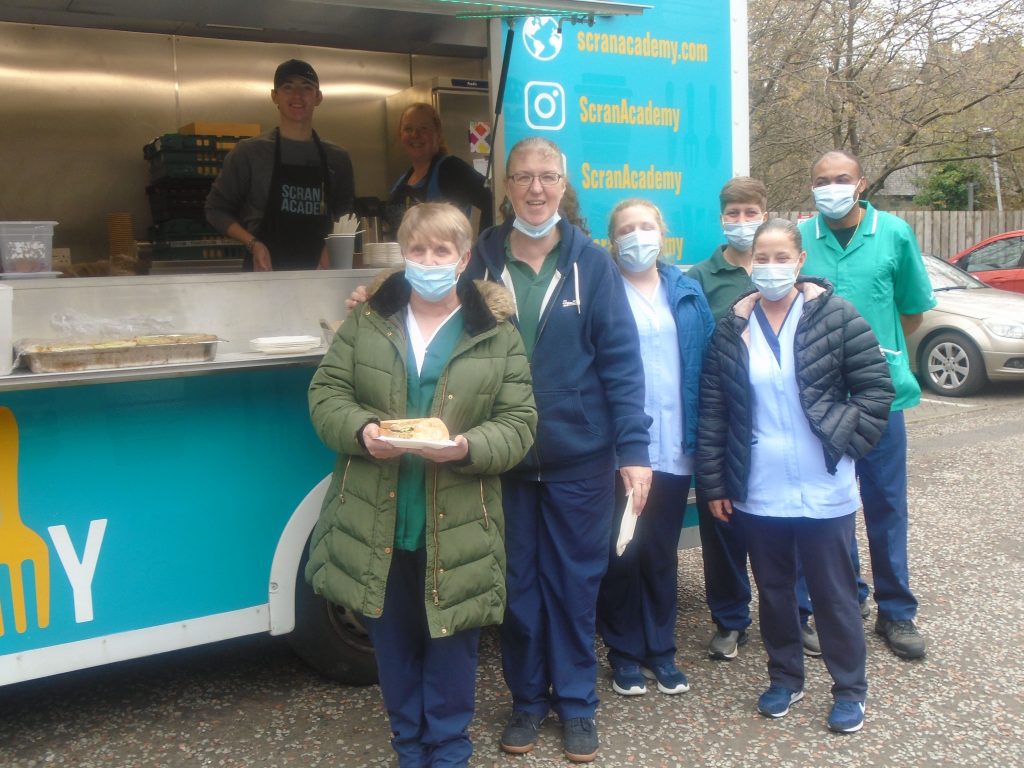 Working with Scran Academy's innovative business model, the Big Scran Care Tour is being co-designed and enabled with a team of inspiring young people at its heart. All the young people engaged have faced poverty-related barriers or life challenges such as care-experienced, risk of homelessness, poor mental health, disengaged from mainstream school or unemployment.
Edinburgh Health and Social Care Partnership Staff Wellbeing Group decided to use some of the funding allocated by The Scottish Government to engage Scran Academy to provide celebratory treat meals and snack boxes delivered on-site to GP practices, health centres, community hospitals and community care services to say a huge thank you to staff for their commitment, dedication and hard work during the pandemic.
Dr Linda Irvine Fitzpatrick, the staff wellbeing lead for the Edinburgh Health and Social Care Partnership, said: "Thrive Edinburgh has a long-standing partnership with Scran Academy. They have an exceptional model that is a win win for all involved, and by partnering with them, all we've done is extend it to a win win win. It's fantastic to be able to use our staff wellbeing fund in a way that delivers benefits to all, and we're already receiving fantastic feedback and thanks from all colleagues who have been visited by the Scran team so far."
This pioneering programme of events will see young people empowered with the skills and confidence to lead in the hospitality industry, fostering huge social return as well as promoting staff wellbeing.
Will Bain, Scran Academy Catering Manager, said: "The Big Scran Care Tour is such an exciting programme for the young people we work with. They get involved in everything, helping us to plan, cook, deliver and evaluate the whole thing, so each event on the tour is something they really get behind. It's such a big confidence and skills boost – and when they meet the healthcare staff and get great feedback, they know they've achieved something meaningful."
Faye (15), a Scran Academy attendee, said: "I like working on the van and it makes me feel happy that I am doing it to say a big thank you to all the hardworking doctors and nurses"
Kacey (15), a Scran Academy attendee, said: "I think it's really good that we get to talk to all the healthcare staff when we serve them. I think we do a really good job."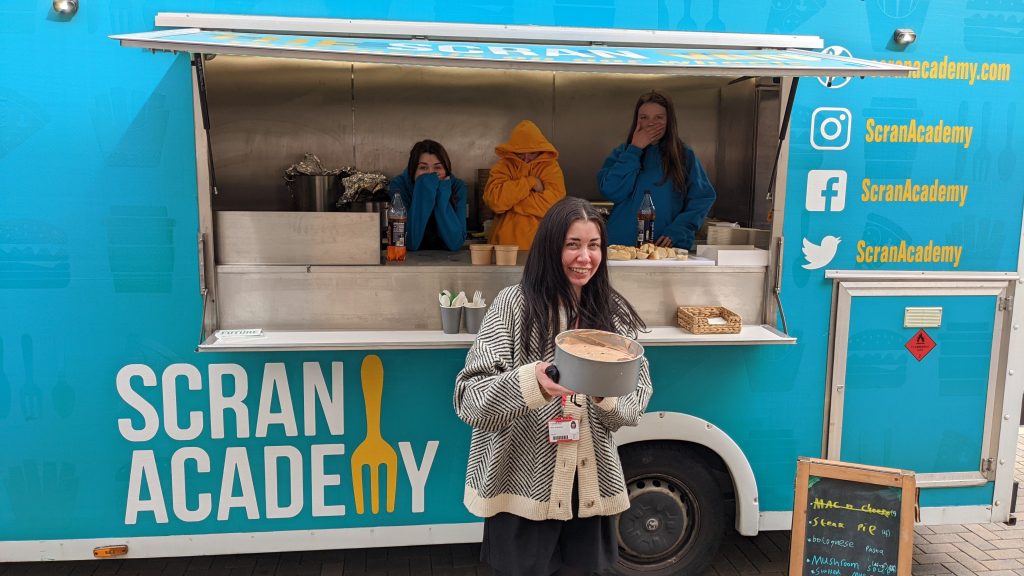 Ends
Additional images can be downloaded from Dropbox here: https://www.dropbox.com/sh/8c2yvmpy7h04n17/AAA9ZTIE-PIO1BV9ottsXzyYa?dl=0
Notes to Editors:
Scran Academy has been in operation for almost five years – supporting many of Edinburgh's young people who have been most failed, ignored and let down.
Academy School – A bespoke education programme dedicated to young people not flourishing in mainstream school. Focuses on the confidence, skills, qualifications and relationships needed to thrive in learning, earning and wider life. Ultimate aim is to close the poverty-related attainment gap.
Scransitions – Training and employability opportunities for young people from communities that are so often judged, condemned and ignored by mainstream Scottish systems. We not only challenge the deeply held notion that young people from certain areas are destined to fail but act as an example of how young people can drive their own change.
Overview
North Edinburgh-based Scran Academy has been working grassroots for almost five years, helping young people to overcome poverty related challenges including mental health, hunger, homelessness, family breakdown and school exclusion. They have done this through their youth work-based Community School for those excluded or at risk of disengagement from mainstream services. 80% go on to access education, training or employment, 85% gain an SQA qualification Nat 4 or 5, and 100% gain wider formal accreditation.
However, the organisation transformed into one of the largest support organisations during the Covid-19 pandemic. In a rapid response, despite their modest size and lack of resource, they recruited over 220 volunteers, six kitchens, a range of partner organisations and went on to produce and deliver over 150,000 meals to vulnerable and isolated people across the city.
Continuing their grassroots support the charity use the Scran Van, a mobile catering van that trains young people to gain leadership skills in a safe environment with positive adult engagement. Last year Scran's team and young people fed over 3,500 people from the Scran Van, for free, with love, at over 80 different events across the city. This year it's Edinburgh's health and social care workers who will be fed for free, as a great big thank you for all their continued hard work.
Founder of Scran Academy and social entrepreneur John Loughton BEM, himself a young person who grew up in the area struggling said: "We do hand-ups, not just hand-outs. We must all respond and adapt to what is an oncoming crisis for today's generation due to education systems failures, a bleak employment context and the rising grip of poverty and mental health. Its brutal for young people and our work has never been more needed.
"What Scran's story shows is that if we support local community organisations that are run with passion and authenticity, we can develop creative solutions to social inequality. I thank all our funders, schools and volunteers. It also shows that unlike the stereotypes so often in the media, young people make a real and positive contribution to society and your post code does not have to be your destiny."
45,000 young people (16-24) are unemployed in Scotland, that's a huge increase in recent years. Around 56,000 school aged young people aren't engaged in any education and new stats show the number of learners leaving school without a positive destination has increased to a five-year high and the poverty-related attainment gap between the wealthiest and least wealthy kids continues to widen. Youth unemployment remains higher than overall unemployment with worrying levels of education disengagement and poverty.