October 2018 will once again see the eyes of the mountain bike world, focus on Fort William and the Outdoor Capital of the UK. No Fuss Events, the Fort William based events company, have truly turned up the power for 2018, introducing not one but two internationally distinguished events to their calendar; the final round of The European Continental Enduro Series & The WEMBO World Solo 24hr Championships.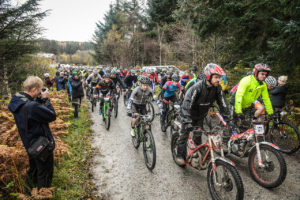 On Tuesday 16 January the Enduro World Series (EWS) launched their new Continental Enduro Series. Round four, the final round of the 2018 European Continental Enduro Series, will be hosted at Nevis Range on 13 and 14 October and staged by the No Fuss team. The Enduro World Series in recent years has changed the way mountain biking is perceived, the reputation of the World Series is global and has showcased some of the most incredible riding destinations in the world.
Chris Ball, Director of the Enduro World Series, said: "We're delighted that Fort William will host the closing round of the new European Continental Enduro Series. The area is steeped in mountain biking history thanks to the legendary Downhill Word Cup so it's an honour to follow in their footsteps. We've worked with No Fuss Events before and know just how incredible their events are and look forward to seeing some exciting racing on those iconic trails."
The following weekend (20 & 21 October) sees the Word Endurance Mountain Bike Organisation's (WEMBO) World Solo 24hr Championships arrive in Fort William. This event was last staged at Nevis Range in 2014 by No Fuss and was a phenomenal success, with riders from 22 countries taking part. The ongoing success of WEMBO since 2014 has seen a huge growth in participant numbers and interest in 24 hour racing across the world.
WEMBO Australian founder Russ Baker, said: "World Solo 24 hour legend Jason English rated the 2014 'WEMBO' at Fort William the toughest course he had ridden. Italy's Gaia Ravaioli will defend her crown while Jason attempts to regain his after coming second to Canada's Cory Wallace in 2017, which ended the longest run of world solo 24 hour championship wins in history.   WEMBO has a bright future with events 'on the books' up to 2022 with all events after Scotland being at new and exciting locations, starting with Brazil in 2019.   I look forward to returning to beautiful Fort William and welcoming the world's riders at Nevis Range in October. See you there!"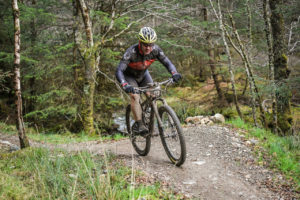 Nevis Range is a world-renowned venue for mountain biking and the Fort William Mountain Bike World Cup has been massively successful and important to the area. The fact that in 2018 alone it will see the Fort William Mountain Bike Downhill World Cup, an EWS Continental European Enduro and the World Solo 24hrs shows the diversity of riding available to all mountain bikers of all disciplines and experience.
Chris O'Brien from Nevis Range said: "We are delighted to partner with No Fuss and host what we are sure will be two incredible events. We'll be working hard to make sure that we put on incredible events and demonstrate that Nevis Range is much more three dimensional than our world famous downhill course and we can't wait to see that unique highland energy that always appears during a Fort William event!"
Frazer Coupland from No Fuss Events said: "It is going to be an amazing couple of weeks, EWS are extremely popular with spectators, with Ireland and Italy having the reputation for the wildest crowds. The 2017 WEMBO was judged to have been one of the greatest parties ever witnessed at a 24hr race. We see this as Scotland's big chance to get out, see some of the world's top enduro stars in action. It's all a chance to marvel at the endeavours and support the worlds very best 24hr solo racers. It's once again a chance for the legendary Fort William crowds to prove that when it comes to parties and mountain biking you will be hard pushed to beat Fort William."
For Full information on the events and other events in the No Fuss 2018 programme go to:
No Fuss Events – http://www.nofussevents.co.uk/
Enduro World Series Continental Enduro Series – http://www.enduroworldseries.com
WEMBO World Solo 24hr Championships – http://www.wembo.com.au/
No Fuss on Facebook – https://www.facebook.com/nofussevents/
No Fuss on Twitter – https://twitter.com/nofussevents
No Fuss on Instagram – https://www.instagram.com/nofussevents/
Nevis Range Mountain Experience – https://www.nevisrange.co.uk/
Outdoor Capital of the UK – https://www.outdoorcapital.co.uk/
Ends
Media Contact:
Paddy Cuthbert | Littlehouse Media | E: [email protected]
M: +44 (0)7913 951717