Scotland's largest specialist e-bike retailer experiences 80% rise in e-bike sales and 200% rise in service sales during Covid-19 Lockdown. Five new members of staff have been contracted and £1500 has been donated to North Edinburgh charities, through an online poll.
Sales of electric bikes (e-bikes) at the Electric Cycle Company (ECC), Scotland's largest specialist e-bike retailer, based on Granton Road, Edinburgh, have increased by at least 80% during the 10 weeks of Covid-19 Lockdown, as compared with the same period in 2019.  With a sales to square foot ratio of more than £600 per square foot [Tesco is just over £900] in this period, ECC, may also have been the busiest bike retailer in Scotland. Service sales have also increased by as much as 200%; and five
Neill Hope, MD of the Electric Cycle Company, said: "Nobody could have foreseen Covid-19 occurring and the resulting demand for bikes. For obvious reasons, people have not wanted to use public transport during lockdown.  They have also been avoiding non-essential travel by car. The streets have been much quieter and folk are definitely feeling more confident about cycling on the roads with family for their limited daily exercise or to get to work or to the shops."

"Our new customers are not only getting to grips with the many health and financial benefits of cycling for both commuting and exercise, but also quickly realising that e-bikes make the whole physical process even easier and more joyful than traditional cycling, despite the larger initial investment.  Edinburgh, with its many steep hills, is the perfect city for an electric bike."
Since 23 March 2020 80% of bike sales at ECC have been to those buying their first e-bike, with the majority of e-bikes being sold in the £2000 – £3000 price bracket.  There has been an even split of male and female customers with an age range of between mid 20's to the over 60's.  However, there has been a marked increase in younger women, especially health workers from the NHS, using the UK Government's Cycle To Work Scheme or the Scottish Government backed Energy Saving Trust eBike Loan scheme to help with their bike purchases.
Despite offering free bike servicing to essential frontline workers from the start of the Covid-19 Lockdown (with any required parts being sold at cost), ECC's service sales have increased by as much as 200% on the same period last year; with a current waiting time on bike servicing of two weeks. This far outweighs the regular spike in servicing sales in January and February, when clients are often referred to in house as the 'New Year's Resolution Customers'.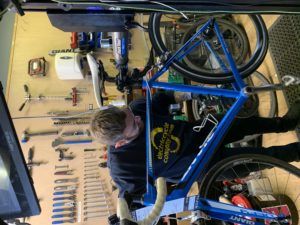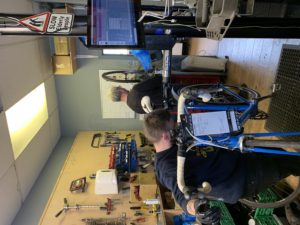 Realising that many people have been suffering significantly during the lockdown, the ECC team wanted to do their bit to help out.  Following a recent online poll through Facebook and Twitter, ECC has just donated £1500 to three local charities, giving back to a local community that has nurtured the business over their last ten years of operation.
Neill Hope added: "To assuage our guilt that the business was doing so well out of the most horrible situation, we wanted to give back to the North Edinburgh community with a charitable donation. Sharing £1500, Edinburgh Food Project, Cyrenians and Street Soccer Scotland were the three charities our customers voted for in an online poll. This is in addition to our continued annual support to Kids Love Clothes, Granton Youth and St Columba's Hospice."
This exponential increase in e-bike sales and bike servicing has led to five additional members of staff being given employment contracts at the ECC – two salespeople, an administrator, and two bike mechanics.
Ends
Further quotes:
On UK bike sales
Neil Hope said: "We are not alone.  Bike retailers throughout the UK have experienced a big increase in sales.  The bike year runs from about September to late August and manufacturers commit to building a set number of bikes based on the previous year's sales figures, areas of growth and pre-orders from shops. The initial sales surge was in regular bike sales of under £500.  These have long since sold out and now there are no bikes under £1500 anywhere in the country at the wholesale level. I don't know whether this has skewed our customers' decision to spend the extra and get an e-bIke.

"Bearing in mind that there a finite supply of bikes from manufacturers and suppliers annually and the UK has seen an overall 50% rise in bike sales this year already, the likelihood from the information we have is that bike supply across the country will run dry by June, literally nothing left to sell."
On bike servicing
Neill Hope, added: "Over the last couple of months many of our customers have come in with previously neglected bikes wanting to use them as a means of transport for their one hour a day exercise, especially as a family unit. The lack of cheaper regular bikes on the market has necessitated repairing bikes, mostly routine maintenance and reviving bikes that have sat in sheds and garages for years gathering dust – rusty chains and stuck parts; a lot of them we would normally have deemed as an uneconomical repair."
On ECC's charitable donation:
Neil Hope said: "We feel part of our local community, a community that has nurtured us for the past ten years in business.   When it quickly became apparent that so many people in the local area were having a really hard time as a direct result of the coronavirus pandemic we felt now was a hugely important time to give something back.

"To assuage our guilt that the business was doing well out of the most horrible situation, we decided on a charitable donation. We handpicked 10 local charities near our business in North Edinburgh who we felt did a great service to the community.  We really did want to keep it at the ultra-local level. We set up an online poll and invited our followers on Facebook and Twitter to spread the word and vote for who they thought should get our £1000. It was pretty close with over 1000 votes cast with Edinburgh Food Project coming first and getting the money. Cyrenians and Street Soccer Scotland were really close so we decided to give them £250 each as a consolation."
Media contact:
Paddy Cuthbert | Littlehouse Media | E: [email protected]| M: 07913 951717
For downloadable images go to: https://www.dropbox.com/sh/h6kcyhd99jpq8k8/AAA8oeDCz_n9fzMnzkRqpG7Ya?dl=0.  Please credit Electric Cycle Company
Notes to Editors:
Electric Cycle Company, 133-135 Granton Road, Edinburgh EH5 3NJ. Tel: T: 0131 552 0999.
Webssite: https://www.electriccyclecompany.com/
Facebook: https://www.facebook.com/electriccyclecompany
Twitter: https://twitter.com/electriccycleco
Instagram: https://www.instagram.com/electriccycleco/
Opening Times – 9.30 – 5.30pm – Tuesday – Saturday / Closed Sunday & Monday
Established in 2006 as Scotland's only specialist e-bike dealer, Electric Cycle Company has grown and developed over the years as a family-owned business to become Scotland's largest specialist e-bike retailer.
With their extensive knowledge and no pressure sales and their no hassle e-bike demos they'll help you find the right bike for you and your journey. Their range includes e-bikes from Bergamont, Cube, Emu, Giant, Scott, Riese & Muller, Ridgeback, Tern and Winther.
They don't have any £500 "best e-bike ever" deals that you can find online, but what you will find though is great customer service, a knowledge of pedelecs that is second to none and a company that will be here for any issues or upgrades.
Book an appointment or give us a call and let us help your smile.