With the support of more than 200 local volunteers and six partner organisations, Edinburgh's Scran Academy Meals Programme will today, (22-07-2020), reach a massive milestone in its essential response to the coronavirus pandemic. The charity will deliver its 100,000th free, healthy, direct to door, ready meal. This 'pop up infrastructure' developed in response to Covid-19 has fed as many as 3,350 of Edinburgh's most vulnerable people, daily since 20 March 2020 and the start of Covid-19 Lockdown; equating to 20,618 meal deliveries in just four months.
By uniting and caring about the vulnerable, Scran Academy, a small youth catering social enterprise based in Pilton, North Edinburgh, with three part-time staff members, under the leadership of John Loughton (inspirational Scottish entrepreneur, speaker, campaigner and winner of Big Brother: Celebrity Hijack in 2008), transformed itself into a highly-organised and efficient catering production line. The team responded from day one, by safely distributing meals to those in desperate need within their local community as the coronavirus crisis hit the Capital. On 20 March 2020 they made and distributed 330 meals to 110 residents of North Edinburgh. Today, more than four months later, 1500 meals will be delivered to at least 761 people citywide.
Ben MacPherson MSP, Minister for Public Finance and Migration; said: "With passion and purpose, Scran Academy has responded remarkably and commendably in this crisis, helping many vulnerable people in communities across our city. By scaling up rapidly, building partnerships effectively, and safely distributing thousands of meals, Scran Academy's operation has got food to those shielding and self-isolating while strengthening community bonds and upskilling many young people along the way. I'm very grateful to John and his team for all that they've done to safely support so many of my constituents and others in Edinburgh at this challenging time."
With no existing infrastructure John Loughton brought together an impressive coalition of partners including Fet Lor Youth Club, Pilton Equalities Project, Out of the Blue Leith, Prep Table Scotland [who have recently merged with Scran Academy], Edinburgh Academy, Fettes College and ​YMCA Scotland. They had to act fast, quickly transforming and building a sophisticated and highly efficient community meals operation. Despite a huge climate of fear and lockdown, the team persisted to forward plan and sustainably upscale the operation effectively as the referrals for meals support flooded in.
This successful and vital community operation would not have been possible without the essential support from over 200 local volunteers (35% of whom have been young people), who have given more than 23,000 hours of their time, working in kitchens, warehouses, on deliveries and supporting with back office roles.
Scran Academy received requests for meal support from 103 different agencies working across the city. Poor Health, homelessness and financial challenge were the most frequent reasons for referral in the beginning.
Scran Academy's own research now shows that the main barrier for those requiring meals is money, with 66% having financial challenges. 36% are aged over 70, 39% have an underlying health condition, 23% are in temporary accommodation or are homeless, and 11% have had an immediate and urgent need for food.
John Loughton, founder of Scran Academy and head of the Scran Academy Meals Programme community-led coalition, said: "I know what it's like first had to go hungry and have empty cupboards. So many are struggling and alone in our 'wealthy' city, and we are on their side. As bigger organisations, and governments struggled to respond, we were out there delivering essential aid – that's the power of local agencies. But it wasn't just food, we were delivering, a portion of love and community, tackling isolation, showing pensioners we cared, helping single families get through and overcoming the tsunami of stress and fear. This was all made possible by the hundreds of donors, volunteers and partner organisations who made this happen. This shows that small acts uniting can create big changes to people's lives."
Over the last four months the Scran Academy Meals Programme has had donations, services and help from over 50 different companies and organisations. However, the second largest source of income has been through a crowdfunding campaign with more than 700 individual donations from the public totalling over £50,000.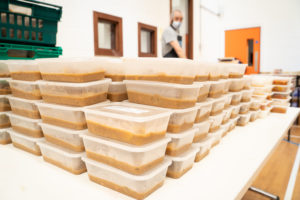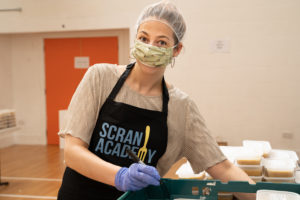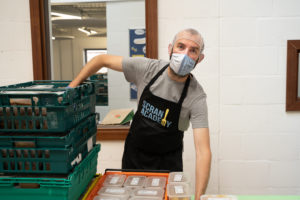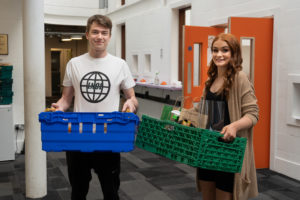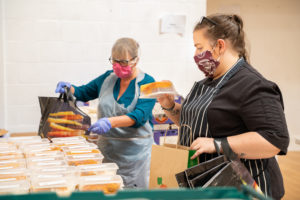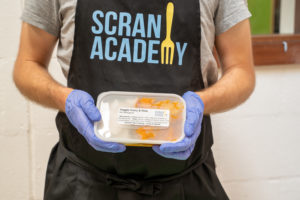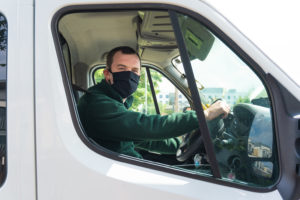 More quotes:
Alex Cole Hamilton MSP said on Twitter: "Throughout lockdown they've provided nearly 100,000 free, nutritious and safely prepared meals to people in shielding or self isolating with Covid-19 symptoms across the city, Kirkliston, Ratho Stn and South Queensferry. I've loved every evening I've spent volunteering with them, but we're seeing a real surge in Parliamentary casework and with lockdown easing and people emerging from shielding- I've really got to focus on that right now. Scran still need volunteers to help them with their ongoing work, driving, 'cheffing' or other kitchen work, so if you can help please email them at [email protected], you'll be joining an amazing bunch of people!"
Quotes from those benefiting from the Scran Meals Programme:
"Game changer! Thank you so much for all your excellent work. My mother (92) was getting quite despondent particularly when it came to thinking about meals. Making something was an even bigger effort for her and she was starting not to bother. Now that you have taken that weight off her, she enjoys the meals, her mood has lifted and she has much more energy."
"Good afternoon. Please may I start by saying a huge thank you to all of your organisation for helping me throughout this difficult time. With my conditions, it has proved difficult to make and sometimes even have the motivation to prepare meals. Your enterprise has given me the opportunity to not only sample some delicious, healthy dishes but also with combinations of ingredients I would never have eaten before. My health, with the help of your nutritious, regularly delivered meals, has improved so much that I (with a little shielding let up) am now able to go out to the shop and buy my own produce to experiment a little more on my own."
"I applaud you for services above and beyond to care for the most vulnerable in your community. Modern day saints!"
"I Would Just Like to Give a Huge, and Massive Thank you to all the people involved. From the Chefs, Kitchen Staff, Admin, Drivers, Deliverers especially, as that few minutes chat, was always such a morale booster. And I apologise if I have missed anyone out, as you've all been FANTASTIC. ALL THE BEST OF LUCK. TAKE CARE, AND BE SAFE EVERYONE."
Quote from a volunteer:
"I would like to thank all at scran for this amazing opportunity and I certainly feel I've got so much more out of this compared to what I put in: the role has brought me to the coal face of the needs in our city and how such a simple act of providing food is so much appreciated. I will value the relationships with the people I've met and things they have taught me – to take time to have a chat and to learn of their circumstances will make me think twice about judging others."
Ends
Media Contact:
Paddy Cuthbert | Littlehouse Media | E: [email protected]| M: 07913 951717
For more downloadable images got to https://www.dropbox.com/sh/v8sx0f34ivmoy66/AACyW_HwqcOcxuMPhaIeOjIQa?dl=0
Social Media Channels:
Website – https://www.scranacademy.com/
Twitter – https://twitter.com/JohnLoughton
Twitter – https://twitter.com/ScranAcademy
Facebook – https://www.facebook.com/ScranAcademy/
Instagram – https://www.instagram.com/scranacademy/
Notes to Editors
Who benefits from The Scran Meals Programme:
20% of the referrals to The Scran Meals Programme have been made direct from family, friends or self-referral; 36% represent single people, many of whom are socially isolated and have told Scran that their delivery driver is often the only person they have seen that day; 64% represent families and couples who have been disproportionately affected by lockdown through job loss, loss of free school meals and/or underlying health conditions; and 9% are facing homelessness or in temporary accommodation with no access to cooking facilities.
Throughout March and April, over 49% (140) of beneficiaries were aged over 70. Currently of those benefitting from the Scran Academy Meals Programme, 66% have financial challenges, 36% are aged over 70, 39% have an underlying health condition, 23% are in temporary accommodation or are homeless, and 11% have had an immediate and urgent need for food.
How has the Scran Meals Programme been funded:
Over the last four months, the Scran Academy Meals Programme has had donations, services and help from over 50 different companies and organisations that include the Scottish Government, the City of Edinburgh Council, Baillie Gifford, Standard Life, Edinburgh Airport, Heineken and Waitrose.
Donations have also been welcomed from 17 different charitable trusts and foundations. These include Charities Aid Foundation, Ryvoan Trust, Big Lottery Fund Scotland, Foundation Scotland, Insurance Industry Charity Foundation, Clothworkers and Leatherworkers Foundation, Walter Scott Charitable Fund, Caram Charitable Trust, William Grant Fund, and Hugh Fraser Foundation.
The second largest source of income has been through a crowdfunding campaign on the Scran Academy website with more than 700 individual donations from the public totalling over £50,000.
Scran Academy background:
A small youth catering social enterprise based in Pilton, North Edinburgh. Before this transformation, they had three part-time staff members
Scran Academy usually supports the most vulnerable young people to transition beyond the classroom into the workplace and wider life, with core youth work support. It offers a unique yet critical pre-work and pre-apprenticeship development journey within their real-life catering operation. Their approach is to focus on what they CAN DO, not what they don't have.
Young people gain first-hand work experience in a dynamic food and drink social start-up, helping to work across the development of the business.
Founded by John Loughton – inspirational Scottish entrepreneur, speaker, campaigner and winner of Big Brother: Celebrity Hijack in 2008, who himself came from a very disadvantaged background – three years ago