In celebration of Scotland's Year of Stories 2022 and to promote sustainable active travel and food tourism through hostelling, Hostelling Scotland has again teamed up with The Adventure Syndicate for a bike and hostelling adventure of the North West Highlands, with some of the finest locally sourced food and drink Scotland has to offer at its heart.
From Monday 20 to Friday 24 June 2022, the 250-mile, two-wheeled hostel packing adventure will see Lee Craigie, Alice Lemkes, and Phillipa Battye from The Adventure Syndicate, a group of female adventurers and storytellers who promote mental and physical wellbeing through their outdoor endeavours, ride from Strathcarron in the south to Durness Smoo on Scotland's north coast.  This specially chosen route features some of Scotland's most remote and iconic sites, majestic landscapes, environment, and natural heritage.  The team is particularly looking forward to experiencing the remote Fisherfield traverse from Poolewe to Dundonell and the old drove road that bisects the Kenmore peninsula at Applecross.
Scotland's world-class food and drink will take centre stage on this highland adventure. The Syndicate will move away from the busier tourist roads to explore the off-road trails of the North West Highlands, experiencing the best of Scotland's natural larder as they go.  Each day the cyclists will visit some of the best local producers, community food hubs, cafes, and restaurants on the route. The top-quality, locally produced food collected on the go will be the source of their evening meals and will be prepared in the self-catering kitchens at Torridon, Gairloch Sands, Achmelvich Beach, and Durness Smoo Youth Hostels, their comfortable, affordable, and bike friendly accommodation on this journey. 
Hostelling Scotland and the Adventure Syndicate have also joined forces with Scotland-based writer, broadcaster, and food anthropologist Ghillie Basan.  Dubbed 'The Original Spice Girl' and 'World Food Expert' Ghillie has written 40 books on different culinary cultures, some of which have been nominated for the Glenfiddich Award, Guild of Food Writers Award, and the Cordon Bleu World Food Media Award.
With an extensive knowledge of leading food and drink producers in some of the remotest parts of Scotland, Ghillie has compiled a list for the Adventure Syndicate to visit each day.  As an occasional cyclist, Ghillie is joining the Syndicate on part of their journey and tackling the miles on an e-bike. Ghillie will stay with the team at Gairloch Sands, Achmelvich Beach and Durness Smoo Youth Hostels.  In the hostel kitchens, she will bring her love of food to life, demonstrating her cooking skills with some original and accessible recipes conjured up from the fresh produce the team has sourced each day.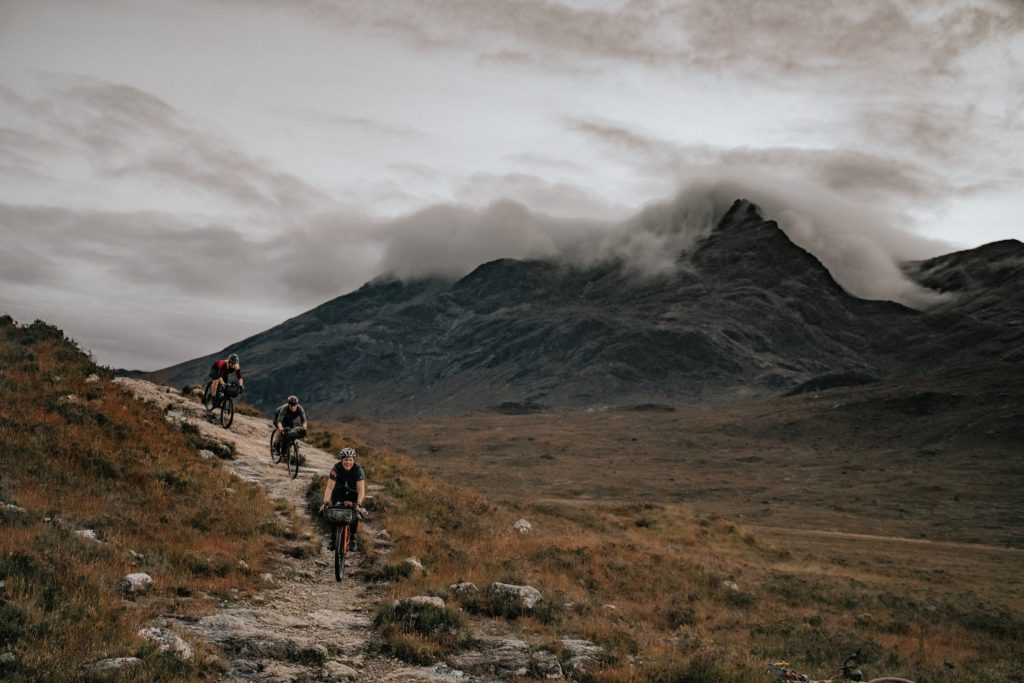 In recognition of VisitScotland's Year of Stories (2022) this journey of exploration and adventure, that has been designed, for the most part, for the amateur adventurer and food enthusiast to emulate, will be documented in a film to be released later this year. Produced by accomplished cycle filmmaker Maciek Tomiczek, together with Ghillie Basan's son Zeki, the film will capture the true spirit of hostelling that has continued for more than 90 years – affordable and flexible accommodation, shared spaces, and shared experiences, discovering the real Scotland through sustainable active travel, and enjoying the benefits of being an integral part of the local community with access to world-class local food and drink on the doorstep.
This collaborative film project will not only be used to share The Adventure Syndicate's travel and food experiences, it will also promote both positive mental health through outdoor adventure, activity and cycling, and inspire sustainable active travel and food tourism through the use of Hostelling Scotland's accommodation network.
Margo Paterson, CEO of Hostelling Scotland, said: "Youth Hostels have long been associated with sustainable budget travel, offering a warm welcome, a sociable and informal atmosphere, and a comfortable bed for anyone looking to explore and discover all that Scotland has to offer, but they're also an integral part of the local communities in which they operate.
"This adventure will bring together sustainable travel and adventure with locally sourced food and drink and the unique and informal hospitality that hostelling offers its guests. During the pandemic, the ability to self-cater was one of the core aspects of hostelling that was really missed by our guests so it's fantastic to be able to showcase this key element of the hostelling experience."
Lee Craigie from The Adventure Syndicate said: 'We're so excited about this trip! We often choose to travel by mountain bike in the wonderful north west of Scotland so we can spend more time in wild places and stay off busy roads.  However, we don't always extend our adventuring mindset to the food and drink we experience along the way. Having Ghillie Basan to guide us and educate us on the excellence of local produce and the importance of buying local will add a very welcome dimension.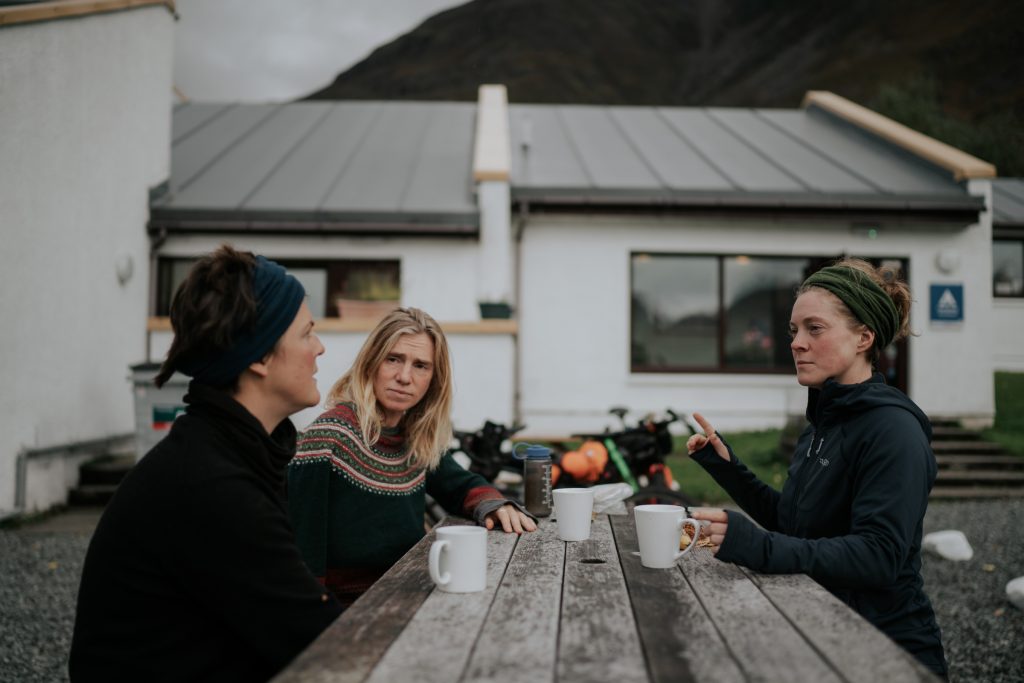 "As usual, having the warm, dry, affordable, welcoming, and midge-free Youth Hostels in which to cook at the end of the day will bring us all together to share stories and enjoy each other's company. Perfect! '
Ghillie Basan said: "I feel honoured to be invited by this elite group of cyclists to join them on this trip and help to showcase some of the fabulous food producers and comfortable youth hostels along the way. I am also looking forward to the camaraderie that comes with travelling together, dipping into local communities, and sharing food, experiences, and stunning views. The trip will also give me the opportunity as one of Scotland's Food Tourism Ambassadors to promote the importance of shopping local and learning about the local food and drink landscape."
Ends
Media contact:
Paddy Cuthbert | Littlehouse Media | E: [email protected] | M: +44 (0)7913 951717
Images attached:
The Adventure Syndicate on their bikes in the Highlands and chilling at Torridon Youth Hostel
Notes to Editors:
The planned route (subject to change) can be viewed here: https://ridewithgps.com/collections/47934?privacy_code=BPFoKOIpIhMdxvDy
Hostelling Scotland
Useful links:
Hostelling Scotland – https://www.hostellingscotland.org.uk
Hostelling Scotland on Twitter – https://twitter.com/hostellingscot #ourplaceisyours
Hostelling Scotland on Facebook – https://www.facebook.com/hostellingscotland
Hostelling Scotland on Instagram – https://www.instagram.com/hostellingscotland
Hostelling Scotland on LinkedIn – https://www.linkedin.com/company/hostellingscotland
Hostelling Scotland is a self-funding charity operating a network of nearly 60 exceptional youth and affiliate hostels for the benefit of all those wishing to learn and experience what Scotland has to offer. Their unique sites provide affordable, comfortable, safe and quality-assured accommodation with a warm friendly welcome, local knowledge, activities and services for guests travelling around Scotland.
Following a strategic review of the organisation, early in 2018, the much-loved hostelling accommodation provider is now known as Hostelling Scotland. The new identity follows on from extensive marketing research and reflects the organisation's commitment to understanding the needs of its members, guests and employees as the modern face of Scottish Hostelling. The name also more clearly indicates its representation of Hostelling International within Scotland.
Both the changes in trading name and logo highlight a commitment to ensuring Scotland's leading hostelling organisation remains relevant in the modern context.
The Adventure Syndicate
Useful links:
Adventure Syndicate Website – http://theadventuresyndicate.com
Instagram – https://www.instagram.com/adventuresynd
Twitter – https://twitter.com/adventuresynd
Facebook – https://www.facebook.com/adventuresynd
Adventure Syndicate Mission – http://theadventuresyndicate.com/mission
The Adventure Syndicate are a not-for-profit organisation made up of female adventurers and storytellers whose ambitious endurance endeavours inspire, encourage and enable others (especially women and girls) to adventure sustainably for the good of their health and happiness and that of the environment.
The Adventure Syndicate is led by Lee Craigie, the former British Mountain Bike champion, child therapist and the Active Nation Commissioner for Scotland
Ghillie Basan
Useful links:
Website – http://www.ghilliebasan.com
Twitter – https://twitter.com/ghilliebasan
Instagram – https://www.instagram.com/ghilliebasan
"Ghillie Basan is an exceptionally talented individual and an unsung hero of the culinary world in Scotland and beyond. A gifted and prolific writer, cook, presenter, recipe developer, storyteller, tourism provider and so much more, she plays a key role in the country's food, drink and tourism landscape." Fiona Richmond, Head of Regional Food, Food and Drink Scotland
Full biography – http://www.ghilliebasan.com/about