Danny MacAskill has today, Monday 20 May 2019, launched a new feature video, "Danny Daycare", on his YouTube channel.  This time, though, Daisy, the now 4-year-old daughter of good friend and director Stu Thomson, steals the show. If you haven't seen Daisy and Danny "cruising" through Scotland yet, then make sure to witness their day out together – #dannydaycare.
Danny's latest video, a Cut Media production, shows the biking professional looking after Daisy (aged 2), while her parents have the day off. While reading books and stacking building blocks can be fulfilling, Danny naturally has other things in mind. Daisy agrees to head outside into the fresh air and Scottish countryside with 'uncle' Danny leading the way on his mountain bike.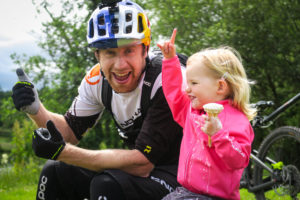 The 33-year-old Scot is widely known as one of the most entertaining content creators the world has to offer. 10 years after his breakthrough video "Inspired Bicycles – April 2009", that included mind blowing stunts filmed at iconic locations across Edinburgh, was uploaded to the internet and multiple video projects that have racked up well over 300,000,000 views on various YouTube platforms, Danny MacAskill has published his latest video, the first new production to be published on his brand-new YouTube channel.
Danny MacAskill, the world-renowned street trials rider and YouTube sensation from the Isle of Skye, said: "We joked about making a film about me babysitting Daisy and taking her for an adventure around Scotland and doing tricks along the way. Eventually we decided that it would be a really cool thing for Daisy to look back on when she is older and a great film, so that's what we did. As Daycare is a parody video, it made sense to visit some old locations from some of my videos to give the viewers something to laugh about. Being on top of the 'Inaccessible Pinnacle', Cuillin Ridge on the Isle of Skye, was definitely taking that to the extreme, but I'm pleased we did!"
Ends
Images attached – Daisy Thomson (aged 2) and Danny McAskill – please credit Cut Media.
Media Contact for Danny MacAskill & The Drop and Roll Tour at The Edinburgh Festival Fringe:
Paddy Cuthbert | Littlehouse Media | E: [email protected] | M: +44 (0)7913 951717
Notes to Editors
Video produced by Cut Media.
Locations in video: Dalgety Bay, Killin, Aberfoyle, Dunkeld, Loch Coruisk, Isle of Skye
About Danny MacAskill
Danny MacAskill stunned hundreds of thousands of viewers in a matter of hours in 2009 when his first video "Inspired Bicycles" was uploaded to YouTube by his friend and videographer Dave Sowerby. The video showed the young Scotsman, born on the Isle of Skye, perform never seen before tricks on a trials bike in the streets of Edinburgh. "Inspired Bicycles" didn't only spark Danny MacAskill's professional career, but also catapulted a niche sport into the spotlight of a mainstream audience. Apart from having performed in a number of major productions such as "Imaginate" (89 million views), "The Ridge" (61 million views) and "Cascadia" (38 million views), Danny has also had the honor of bearing the Olympic torch during the tour in Glasgow for London 2012, participated in a Hollywood production and been nominated for National Geographic's "Adventurer of the Year Award".
Danny MacAskill and The Edinburgh Festival Fringe 2019
Together with the Drop and Roll Tour, his hugely popular street trials stunt display team, Danny McAskill will be heading to Scotland's capital for the month of August for his Edinburgh Festival Fringe debut. Danny MacAskill's Drop and Roll Live, a brand new supercharged live indoor street trials show featuring jaw-dropping stunts and gravity-defying tricks to amaze adults and children alike, will be performed at The Lafayette at Underbelly's Circus Hub on The Meadows every day from 03 to 24 August 2019; with two shows a day on 07, 12 and 19 August.  http://www.underbellyedinburgh.co.uk
Follow Danny MacAskill:
Danny's YouTube channel: www.youtube.com/dannymacaskill
Danny Daycare: https://youtu.be/jj0CmnxuTaQ #dannydaycare
Danny's website: www.dannymacaskill.co.uk
Danny's Facebook Fanpage: www.facebook.com/DannyMacAskill
Danny's Instagram profile: www.instagram.com/danny_macaskill
Danny's Twitter account:  www.twitter.com/danny_macaskill
Danny MacAskill Media Contact/Managing Agency:
rasoulution GmbH
Oliver Junggeburth
Karl-Theodor-Strasse 55
80803 München
Germany
E-Mail: [email protected]
Phone: +49 (0)89 3866709-18
TV/Online Distribution:
eye|sprint communication
Simone van Slingerland
Goritschach 7/1
9133 Sittersdorf, Austria
Email: [email protected]
Phone: +49 (0) 151 419 176 72