Crieff based Nick Brewster Art and Antiques has recently uncovered an extremely rare military issued Rolex 5513/5517 Military Submariner dive watch. This holy grail of collectors' watches nicknamed 'MilSub', currently owned by a diving enthusiast from Perthshire, is due to be sold at the Bonhams New Bond Street, London, Fine Watch sale on Wednesday 15 June 2022, with a conservative estimate of £80-120,000.
The 5513/5517 was issued to a former Royal Navy diver in the 1970's and was bought from him by the current owner in the early 1980's. From then on it was his go to dive watch until the bezel fell off on a dive in 1996. Since then, the watch has resided in a chest of drawers and hardly worn again.
Nick Brewster, owner of Nick Brewster Art and Antiques, said: "It is really fantastic when customers bring in their antiques and art for me to value and sell, even better when it is something so special. Although not a jewellery or watch dealer, on first sight of this exquisite watch I felt that there was something about it that made it stand out. After a wee bit of research, I realised that it was an original Rolex 'MilSub', bar the missing bezel, one of the rarest and one of the most collectible watches today.

"After discussion with the owner, who wishes to remain anonymous, it was decided to consign this Rolex 5513/5517 Military Submariner dive watch to auction rather than try to find a collector to make an offer. The market for exceptional watches is buoyant at the moment, the last original 'MilSub' to reach the Bonhams London saleroom made £180,000, back in February. It is a great example of the Military Submariner and I am really intrigued to know what it will fetch at the sale on 15 June.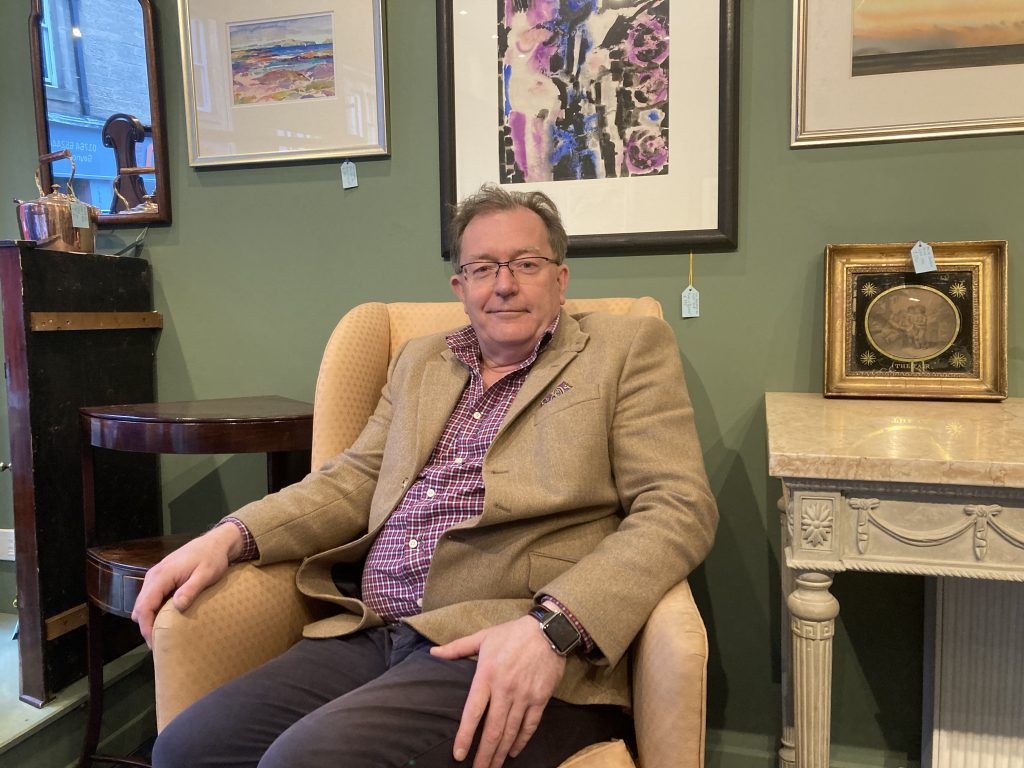 It is believed that between 1971 and 1979 only 1,200 Rolex Military Submariners were issued as standard basic equipment by the Ministry of Defence, mainly for use by Navy submariners and their leading divers and mine-clearance personnel. It is estimated that only 120 to 180 still exist today.
Three very similar models of the watch were issued, the 5513, the 5513/5517 ('double-stamped') and the 5517, their subtle differences based on markings and date of release. It is estimated that there may be less than 30 of the 5513/5517 in original condition left in existence.
The Rolex Military Submariner's unique military designated features of tritium "T" on the dial, sword hands, 60-minute bezel, fixed lug bars, nylon strap, non-reflective case and military engravings to caseback set this watch apart from any other Rolex Submariner watch.
Ends
Images attached:
Nick Brewster in his shop, Nick Brewster Art and Antiques, in Crieff, Perthshire
The rare military issued Rolex 5513/5517 Military Submariner dive watch – Credit Bonhams
Notes to Editors:
About Nick Brewster Art and Antiques
Nick Brewster acquired his shop in December 2021 having traded online for the previous three years, a natural progression for the business. Crieff was the obvious choice for the shop as there is nobody else dealing in 'proper' antiques within a 40 mile radius. It has been a tough beginning to this start up with Covid-19 and the current uncertainty over finances playing their parts.
Nick was exposed to quality antique furniture growing up. His father was a partner in Muirhead Moffat in West Regent Street, Glasgow. Nick has also worked for Christie's auctioneers and The Fine Art Society.
Social media links:
Facebook – https://www.facebook.com/artdealerScotland
Instagram – https://www.instagram.com/nickbrewster_artandantiques/
Lot Description
Fine Watches
Wednesday 15 June 2022

Lot #: 44
Title: Rolex. A rare stainless steel Military automatic wristwatch issued to the Royal Navy Military Submariner, Ref: 5513/5517, Circa 1975
Estimate: £80,000 – 120,000
Description: Rolex. A rare stainless steel Military automatic wristwatch issued to the Royal Navy Model: Military Submariner Reference: 5513/5517 Date: Circa 1975 Movement: 26-jewel Cal.1520 automatic Dial: Black, Tritium T, luminous dot hour markers, baton quarters, white outer minute divisions, polished sword hands with luminous inserts, centre seconds Case: Brushed and polished tonneau form, screw down back engraved 0552/923-7697 691/77, fixed bars, shouldered screw down crown, lug engraved 5517, case middle No.3926879, inside case back similarly numbered, stamped 1.72 Strap/Bracelet: Original fabric NATO Buckle/Clasp: Buckle Signed: Case, dial & movement Size: 38mm
Footnotes Rolex made the 'MilSub' as a direct order for the British Military through the Ministry of Defence. These were made with specific enhancements that set them apart from their civilian equivalent. The reference 5513 was the first of these to be customised for Military use by making the spring bars solid and friction welded into place negating the possibility of the spring bar being pulled out. As such all Military Submariners have NATO straps as the more normal straps or bracelets cannot be fitted to the solid lugs. The hands were replaced with the aptly named Sword hands to enhance legibility with Tritium luminosity signified by the T in a circle on the dial. The case backs are engraved on the interior with the serial number and also on the outside case back with the Ministry of Defence issue number. The military numbers on the back of this particular watch refer to it being issued in 1977. There are 3 series of the Royal Navy Military Submariner: 1.Standard Ref:5513 2.Double Ref:5513/5517 (5513 on case and back; 5517 on a lug) as with the present lot 3.Unique Ref:5517 As these watches were "tool watches" in the truest sense of the word, they were often repaired with service parts and in many cases heavily damaged during their years of use. The current lot is a prime example of this with its lack of bezel which the current owner, a professional diver, recalls losing on a dive in the 1990s. The current owner is the second person to own this watch having purchased it from the original Navy diver in the early 1980s. For further information about this lot please visit the lot listing