Delivering impactful, integrated media relations and communication campaigns for engaging projects and events.
Littlehouse Media
Armed with bags of experience, creativity, fresh-thinking and ambition, Paddy Cuthbert confidently manages results-driven communication programmes for clients from across the adventure sports, tourism and cultural sectors, from his base in Edinburgh.
From developing integrated, common sense media relations strategies to rolling-out engaging social media activities that have both media appeal and consumer connection, each campaign is tailored to the commercial and organisational objectives of clients and the often limited budgets in hand. Whatever the budget, whatever the brief, every campaign is designed to reach, engage and influence audiences, building brand credibility and trust, raising awareness, creating positive perceptions whilst driving change, everything from sports event and theatre production sales and entries to behaviour.
Paddy Cuthbert has forged strong, powerful and lasting relationships with clients, project partners and a wide variety of stakeholders (local government, commercial sponsors, charities, suppliers, national funding bodies, etc), as well as with regional, national and international print, online and broadcast media contacts, bloggers and influencers.
Whether working on media relations for a one-off project or event or delivering a fully-managed and strategic digital marketing campaign that utilises all the tools in his armoury over a longer period of time, Paddy Cuthbert and his specialist team of collaborators bring the same dedication and enthusiasm to the table.
About Paddy Cuthbert
A highly motivated, dedicated and results-driven business communicator and media relations specialist with more than twenty years experience of multi-project work, under pressure, to tight deadlines. Has a proactive, caring and enthusiastic approach with a strong commitment to best practice. Proven strategic planning and relationship management skills. Is flexible, adapting easily to changes in working environments, procedures and practices.
Crisis management experience includes the cancellation of the world-renowned Edinburgh's Hogmanay Street Party, the cancellation of an Israeli theatre production at the Edinburgh Festival Fringe due to extreme political protest and setting up crisis management plans for a number of clients and their events.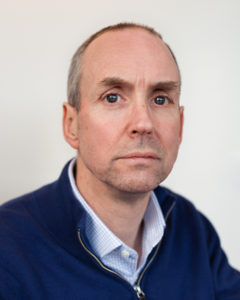 Littlehouse Media History
In 1998 Paddy Cuthbert launched Podge Publicity, a communications consultancy specialising in the publicity of arts and cultural projects, productions and events. Over time the company's focus changed building a reputation as Scotland's leading independent communication consultants for adventure sports projects and events, active and outdoor tourism and the arts.
In April 2014, having joined forces with The Inside Line Partnership a few years earlier, Paddy made the decision to leave the business to set up as an independent media relations consultant, building a stable of likeminded industry experts to join forces with on Public Relations, media relations and digital marketing projects, delivering added benefit to his clients.
Working under the banner of Littlehouse Media, Paddy collaborates with PR, photography, video, social media and digital marketing, web development and design specialists, in order to deliver the most beneficial and cost effective results for his clients in an increasingly more digitally focused and budget conscious world.
The stakeholder brands and organisations Paddy Cuthbert has collaborated with include Sport Relief, BBC, Royal Bank of Scotland, Nissan Europe, VisitScotland, EventScotland, The City of Edinburgh Council, Glasgow City Council, Highlands and Islands Council, Scottish Borders Council, Dumfries and Galloway Council, Tissot, GE, NatWest, Corona, Nokia, Magners and Men's Health.